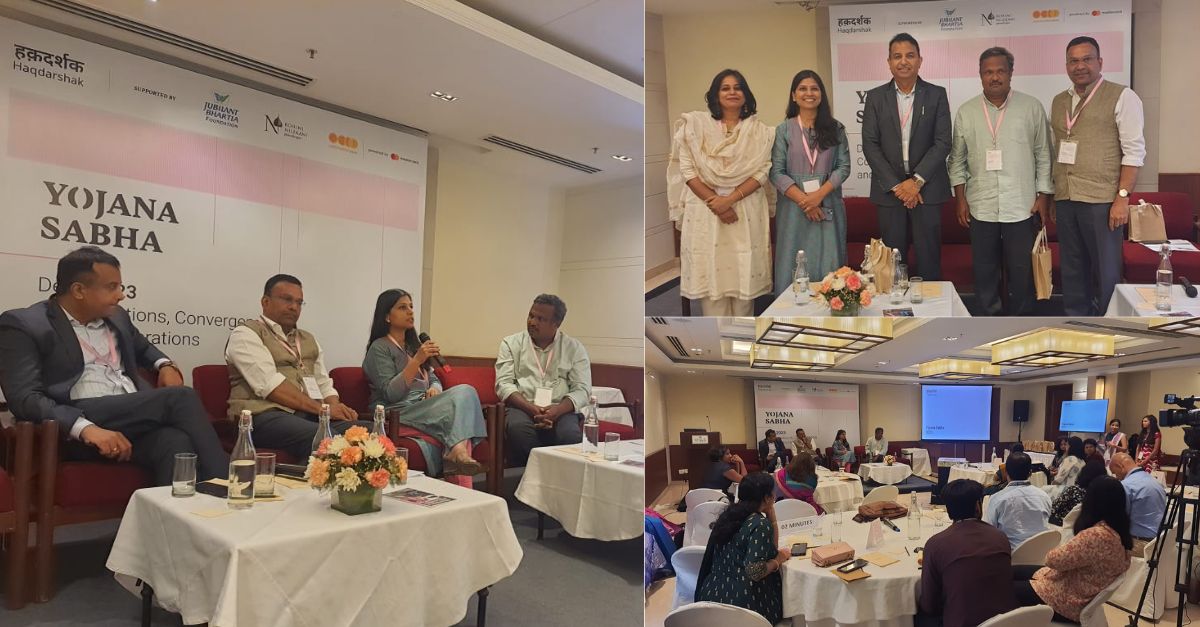 Six months into 2023 and everyone including the Pope is talking about AI. After all, it's redefining the future of work, leisure, relationships and even writing our own life's journals. At Societal Thinking and EkStep Foundation, we believe AI and Digital Public Infrastructure (DPI) are key drivers for inducing impact@scale, and we often find ourselves obsessing over how to make them work for a billion people.
Haqdarshak, one of our co-explorers in our Scalers program, is thinking along similar lines: How can we reimagine social security with advances in AI and learnings from other DPI deployments to accelerate socio-economic mobility for 500M underserved Indians? Access to the right welfare support at the right time can trigger an upward spiral out of generational poverty for millions in the country. It was definitely an opportunity worth exploring, and we got the right platform to do this when Haqdarshak organised Yojana Sabha, their first national conference on social welfare, in New Delhi on May 30.
Societal Thinking and EkStep Foundation curated a discussion track on "DPI and AI for Welfare Services" as part of the conference. Jagadish Babu, COO of EkStep Foundation, with his immense knowledge and experience of working at the intersection of technology and its applications in solving problems at scale including Aadhaar, Sunbird, DIKSHA, NDEAR and assisted language learning initiatives, moderated the session. Rakesh Verma, Edtech CXO, Karmayogi Bharat who has led several large-scale tech transformations including DIKSHA at Digital India Corporation; Krishnan Pallassana, Managing Director at Digital Green who is currently building the National Digital Extension Platform with the Ministry of Agriculture and Savita Muley, Chief Product Officer at Haqdarshak who is co-creating inclusive technology for welfare delivery brought in their perspectives as panelists.
Achieving success in diverse contexts represented 'scale' to the panelists. Each of them identified with different drivers that contributed to their success. These drivers took various forms, including government-driven scale (such as Digital Green's extension system), market-driven scale (like Haqdarshak), or a combination of both (as seen in the DIKSHA Platform). Despite their diversity, they converged on four key threads when it came to building exponential tech that works at population scale.
Seeking rapid evolution
For solutions to work at scale, we need to develop them in a way that can adapt and evolve over time, allowing for continuous updates, changes, and the inclusion of new actors, technologies, and solutions that add value. For example, Krishnan shared how Digital Green's extension platform is being imagined as an open convergence platform using the reusable building blocks from DIKSHA. Once established, it would invite others to join and build solutions, thereby enhancing its value proposition and ensuring ongoing relevance and usefulness, he explained.
The primary focus lies in establishing a robust foundation upon which multiple players, technology stacks, and solutions could be built by different stakeholders. The design should not aim to function solely in isolation but should instead rely on the contributions and involvement of others. "We have to intentionally leave room for others to complete the overall solution" stressed Jagadish.
Distributing the ability to solve
Empowering ecosystem partners by enabling them to take ownership and contribute to the success of the initiatives is key, similar to how DIKSHA was designed. DIKSHA can be seen as a large building where each occupant, such as states, has their own space and autonomy, explained Rakesh. "The adoption of DIKSHA has been successful because each state can customise their training programmes and adapt them to their specific context and needs. This empowerment extends not only to the states but also to the districts within them," he said.
Jagadish shared the example of Energized Textbooks which involved various stakeholders who had different roles and priorities, but were able to craft integrated solutions because they took into account the roles and needs of each actor. Rakesh drew parallels to UPI, where different entities worked independently to provide a seamless user experience. Drawing from his work with the application of large language models (LLMs) for local languages, Jagadish expressed his obsession with designing AI solutions that can adapt and evolve while keeping certain aspects constant.
Diversity as a solution
What works for a plot of land may not work for the next plot, said Krishnan, pointing out how agriculture is highly localised. But this diversity and fragmentation applies to all complex social problems as well. What will work at scale is a solution that can bridge these gaps, and technology holds the potential to do so, felt the panelists. The challenge lies in utilising technology to effectively cater to this vast diversity and provide targeted information that feels personalised for each user. Achieving this goal necessitates a series of incremental steps rather than a single solution, with every step opening the door for future advancements and collaborations. By embracing the idea of diversity as a solution, and not a challenge, tech solutions can tap into a rich pool of knowledge, expertise, and perspectives to build sustainable, equitable, and culturally relevant solutions that empower individuals and communities.
Building for the user
It is crucial to maintain focus on the ultimate aim of enhancing the lives of users. Without a clear purpose, the development of such systems and infrastructure would be rendered meaningless, cautioned Jagadish. For example, the design of technology in the agricultural sector is influenced by its impact on the farmers and ultimately, the well-being of the entire country. The development of AI technology should aim to restore the agency of farmers with customised information, particularly those who are at the margins and often overlooked. It should focus on enhancing their earning potential, increasing productivity, and minimising risks they face. However, there exists a delicate balance between theory and praxis. It is not possible to fully comprehend the effectiveness of a technology unless it is implemented and tested in the field, pointed out Krishnan. Finding the right balance between theoretical considerations and practical implementation is crucial, felt Jagadish.
Another aspect the panelists agreed upon was to allow sufficient time for users to understand and absorb the technology. While developing a great solution is essential, it is equally important to give users the opportunity to personally discover its utility and become convinced of its benefits. This process of change management is vital, said Savita. Even the best solutions may fail if users do not perceive the right timing for implementation, she added.
In conclusion: Roadmap for Haqdarshak
The panel was a source of inspiring stories, showcasing how technology can be harnessed to drive positive change in people's lives. As Haqdarshak builds for scale, aiming to reach 500M citizens by 2030, the insights and learnings from other population-scale solutions such as Aadhaar, DIKSHA and UPI will help direct their journey towards co-building a schemes-focused digital infrastructure and AI technologies in the country.
If you have more thoughts on how DPI and AI can help bridge the gap in the delivery of social security, write to me at shubha@societalthinking.org.