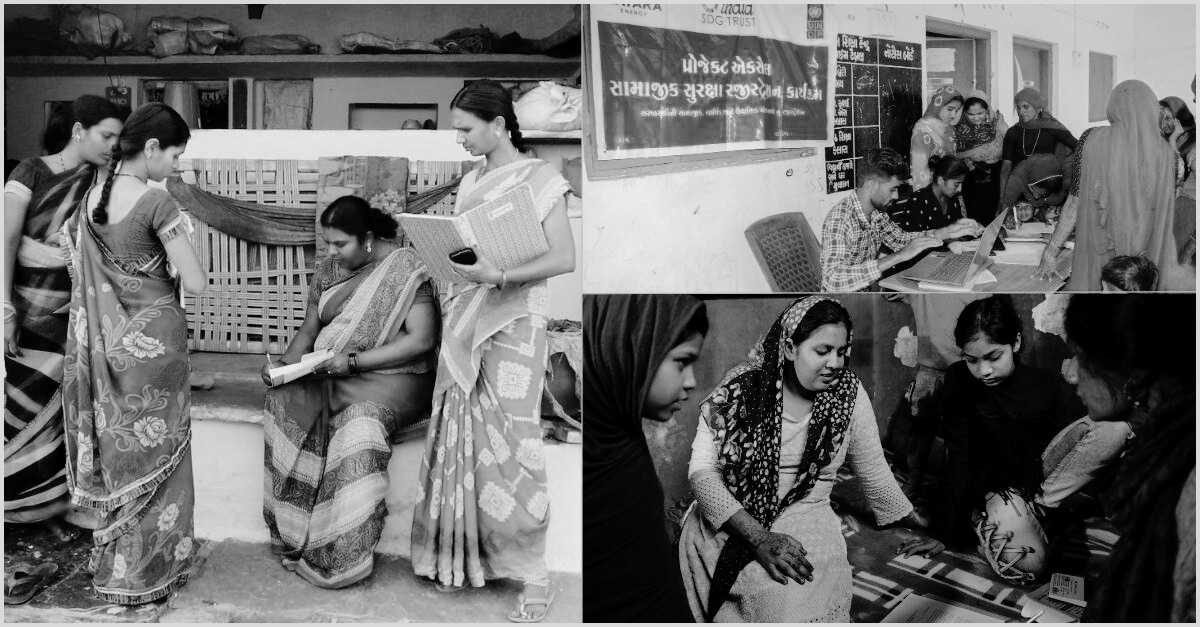 2022 was a watershed year for Haqdarshak. We tested game-changing products, learnt valuable lessons around operating models, client management and budgets; and even managed to sail through what was the toughest year for us, financially. We also had an AHA! moment – scaling what works and designing what works at scale are two completely different ball games. 
Haqdarshak has been focused on service delivery; our field agents (or, Haqdarshaks) provide end-to-end support to people applying for various welfare programmes. Haqdarshaks tackle three barriers at the same time – access, affordability and effort. We realised that while this model restores the agency of communities to create impact, it will not scale with speed. 
We first met the Societal Thinking team in Pune. Priya and Anjali came down to our office to discuss our goals and the Societal Thinking Core Values. What followed was an animated discussion that asked us to reimagine how big we want our impact to be. From our current impact of 2.4 million families across 24 states in India in more than seven years, we jumped to thinking about reaching 10 million in the next two years!
Our answer stunned even us; so much so that we ended up thinking our ambition was not just difficult but also unachievable. 
But, with Societal Thinking, we soon began believing otherwise.
Shooting for scale with Societal Thinking
The Haqdarshak solution is a tech-enabled assisted service for individuals and micro-businesses to discover eligible welfare programmes and entitlements and get end-to-end support to apply for these schemes. We have enabled unlocking benefit pensions, scholarships, insurances, documentation, and subsidies, among others – worth more than USD 514 million for over 25 lakh households. Additionally, we have unlocked benefits for more than 36,000 micro businesses. We have trained over 24,000 Haqdarshaks, who have, in the process, earned an income in exchange for the discovery and application support services they provide. 
After a rigorous 7.5 year journey, we now feel ready to adopt a systems approach. This is why we're a part of Societal Thinking's Scalers. Together, we are exploring ways to think about building for the ecosystem and for scale with the solutions we are developing for our clients.  As a Scaler, we are now focusing on accelerating social mobility for 500 million by 2030 through access to entitlements. To do so, we have to drastically change our approach towards building solutions for end-users with limited access to digital and financial resources.  
With Societal Thinking, we are reimagining how to solve for information around and access to entitlements in the country. We are driven to conceptualise and build a Welfare Programmes Registry as a public good. This will enable the larger ecosystem to extend welfare services to communities they work with and make scaling easy for us. We are envisioning a minimum 100x delta in our impact. 
Over the last seven years we have built deep knowledge on welfare schemes and have also developed products such as the Yojana Card. Our Yojana platform has 5,000+ schemes, with an eligibility engine and can be accessed in 11 local languages. Parts of this Yojana platform, the existing repository of schemes and the eligibility engine will form the base of a Digital Public Good. This will enable exponential change and bring together diverse stakeholders who are all focused on enabling easy access to welfare for users.
Haqdarshak's next 7 years 
Integrating Platform Thinking into our approach, we are positioning for population-scale impact. As a scaler, we have already begun reimagining and working towards creating exponential change with Societal Thinking. We are building outcome-focused strategies and aligning our teams with the vision of how we want to scale. 
Scalers is pushing us out of our comfort zone. 
But what exactly will we achieve over the next seven years?
Here's a glimpse of what we think we can do: 
Enable an ecosystem of stakeholders across Samaaj, Sarkaar and Bazaar to improve information around and access to welfare for communities.

Establish a platform-based model for a wider set of organisations to contribute to or consume from a public good in the form of an open Welfare Programs registry.

Make it easy for anyone to become a 'Haqdarshak', an enabler for social mobility through access to welfare solutions.

Enable grassroots organisations to deliver more holistic welfare solutions to the communities they serve.

Create the right models for partnerships with financial institutions and governments critical to delivery of welfare.

Empower end-users to self-discover the right programmes using technology-led channels.
We have our hands full in the coming years! We need to be agile, but focused. And, that's why we are so excited about this collaboration with Societal Thinking. They are walking with us in our journey towards scale. 
We can't wait to finally see our vision come to fruition!