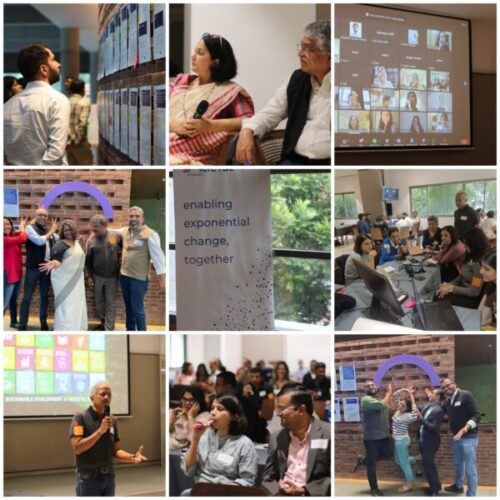 "There is no power of change greater than a community discovering what it cares about."
Margaret J. Wheatley
150 leaders, 71 organisations, 15 countries. Our ecosystem spans the world – it's hard to imagine us all in one continent, leave alone in one room. And yet, on 12 December, braving heavy Bangalore rain, we all came together at Bangalore International Centre to Connect, Learn, Share. 
In early November, amid yearly exclamations of 'Where did this year go?' appeared a big pandemic-shaped hole. Over the last two years, our ecosystem had become bigger and more vibrant – now, it was time for all of us to finally meet.
Hence began our joyous and slightly frenzied planning for the Ecosystem Meetup. 
From going venue-to-venue and caterer-to-caterer to reflecting on what our ecosystem would like to be a part of and brainstorming the design – the Societal Platform team was early to rise and late to bed. Attempting to figure out a way for all of us to be together, we ultimately landed on a hybrid design, i.e., Zoom and in-person. It meant most of us could be in one room, physically or virtually. It also meant we had to execute a design we were unfamiliar with in just 30 days! 
The weeks leading up to the Ecosystem Meetup are a blur. I remember writing notes for Goodie Bags, zooming across Bangalore (well, as much zooming as the traffic allows!) looking for Bluetooth speakers and lots of late-night calls with Vyjayanthi Mala and Ramanjali Ramesh from the Orchestrate Team sharing our ideas, reservations and anxieties around being able to pull off the Meetup. But, pull it off we did! 
What an amazing feeling it was to share, bond and celebrate with such an inspiring bunch of change leaders. All of us worry about wicked social problems and spend all our time thinking about what would solve them. At the Meetup, it became clear we are all tied together by the same thread – our quest to induce exponential change, together.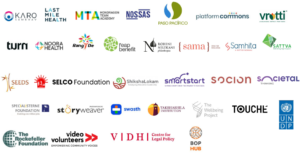 I felt the power of 'together' most intensely during moments when we all had childlike fun: answering Never Have I Ever questions, asking curious questions and getting curious-er with the answers, doodling and bouncing our ideas off each other.  
Throughout the day, we discussed everything under the sun – restoring agency in the ecosystem, building funding capacity, the potential of imaginative storytelling, designing solutions at scale and so much more! We even celebrated the ecosystem's achievements and spent time learning about their efforts, big next things and commonly faced challenges. The more people connected, the more opportunities for co-creation shone out. 
Finally, before the day ended, we all had a conversation with Rohini Nilekani, Chairperson of Rohini Nilekani Philanthropies and Nandan Nilekani, Chairperson of EkStep Foundation. With patience and insight, Rohini and Nandan answered every question that poured in from across the globe. Their answers not only affirmed our hope for a better future but also added levity to big topics such as the need for risk capital and creating safe spaces for failure. They made this better future seem right round the corner, if we only dared to reimagine!
A fitting ending to the Ecosystem Meetup! Despite running around all day, I went home full of energy. What is more important than feeling like we belong, like we've got each other to lean on though this seemingly crazy ride? That's why we believe, together is exponential!