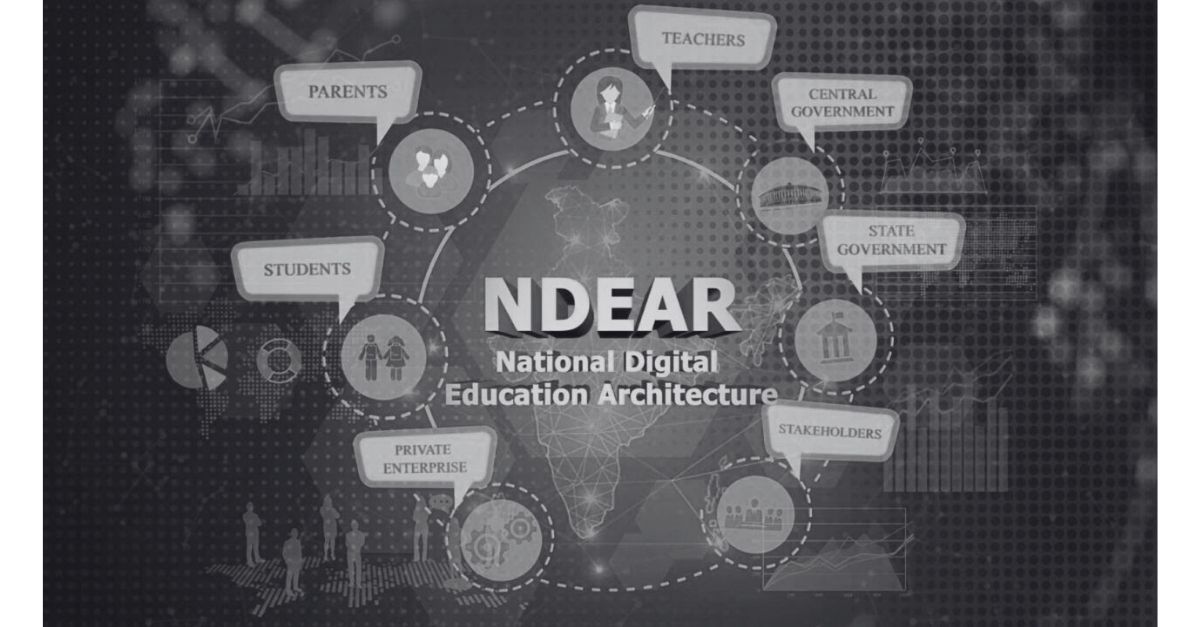 It's been 25 years since I left school and student life feels very distant. Winds of change have swept the education landscape in the years in between. The gusts have grown even stronger with digital technology. It makes me wonder: What is the scaffolding the education ecosystem needs, to close the gap between what is and what can be for the 300M+ students and 10M+ teachers in India? In a country with varied cultures, languages and socio-economic lived experiences, how can diversity be seen as a solution and not a challenge? What does it take to orchestrate an ecosystem of collaboration and innovation? With all these questions, I spoke to Gaurav Gupta, Chief Growth Officer at EkStep Foundation to understand the journey of National Digital Education Architecture (NDEAR), its barriers and breakthroughs, and the path it wants to take in the coming years. NDEAR, launched in November 2022, aspires to be a Societal Frame and bring together multiple actors in the education ecosystem to work towards a common vision.
Let's start at the very beginning. How did NDEAR come about?
NDEAR was born out of the early days of DIKSHA (Digital Infrastructure for Knowledge Sharing). DIKSHA is a digital infrastructure built on open source technology enabling several use cases and solutions for teaching and learning. It is an initiative of the Ministry of Education, housed under the National Council for Education Research and Training (NCERT). DIKSHA laid the foundation for collaboration and participation in the education ecosystem.
NDEAR is not just a policy – it is an ecosystem framework. It reimagines how to help a child by empowering the actors surrounding them –  teachers, principals, parents, government officials, and local community members. 
Enabling a child's education is a challenge, nested under it are other challenges related to capability building of actors and facilitating trustworthy transactions. How to make content available in local languages? How to enable visibility to engage the ecosystem in a timely manner? Instead of each player in the ecosystem attempting to solve these challenges from the ground up, we need an enabling digital infrastructure for them to collaborate and innovate to amplify their efforts. This was the core idea behind NDEAR.
NDEAR was announced in July 2021 by the Prime Minister and launched as a policy in November 2022 by the Ministry of Education. The policy development process included the Union Secretaries of the Government of India from the Department of School Education and the Ministry of Electronics and Information Technology, senior experts in the education sector and members from civil society organisations. 
What role did DIKSHA play in the evolution of NDEAR?
DIKSHA played a significant role in shaping NDEAR by bringing together various organisations, both from the public and private sectors, to create digital content and capabilities for teachers and students. This collaborative approach illuminated the power of the ecosystem and paved the way for NDEAR to evolve and thrive. 
Several diverse capabilities, including 600 Mn+ printed copies of Energised Textbooks, to 0.3M+ digital content in 33 languages, to 10,000+ courses for capability building, restore the agency, dignity and choice of students as well as teachers. 
A frame is an approach to recast or reorganise how we think about a problem or a challenge. It helps us see the world from a distinct vantage point by magnifying certain elements and minimising others. Sometimes, looking at a problem from a different angle enables us to reimagine solutions in a unique, innovative manner.
How did NDEAR unlock the reimagination of ecosystem actors?
NDEAR, functioning as an ecosystem framework, energised and catalysed the objectives of the samaaj (society), sarkaar (government), and bazaar (market) within the context of policy, digital infrastructure, and innovation.
The government sought to leverage the capabilities of samaaj players as potential enablers, providing them with support in content and technology capabilities based on existing policies and mechanisms. Similarly, it explored collaboration with bazaar players to foster innovation and enhance their capabilities.
Samaaj players got an opportunity to expand their efforts on a larger scale while ensuring alignment with their values of equity and inclusion. It also helped them to access essential building blocks that magnified the impact of their work.
Bazaar discovered a path for innovation within the policy landscape, while sarkaar provided them with an opportunity to distribute their solutions on a larger scale. The technological building blocks helped them build beyond, to improve their speed and efficiency.
For example, Energised Textbooks were a way to reimagine digital learning for students. VidyaDaan reimagined the contribution of content by and for the ecosystem. Nishtha on DIKSHA was a way to reimagine the capability building of teachers digitally. Saral was a way to reimagine the emission of student assessment data for timely action by administrators and school leaders. Vidya Amrit Mahotsav was a way to drive micro improvements to build great schools by school leaders and teachers.
The ultimate beneficiaries of this collaboration were the users, namely students and teachers, who received a wide range of tailored solutions to meet their specific needs in various contexts.
Have any +1 shifts happened because of this?
The impact has been substantial and irreversible. QR codes in Energised Textbooks were introduced, acting as a bridge between the physical and digital worlds. 
Training teachers became more cost-effective to do digitally, and to reach a wider audience. Previously, training even 10% of teachers a year would have been costly. Now, all teachers can be trained on multiple aspects many times over the year at only 5% of the previous cost.
Moreover, as a few districts have already shown, the ecosystem-focused approach emphasises local, contextual innovation. District empowerment initiatives engaged the local ecosystem to drive over 6 lakh micro improvements in schools.
What were the challenges you faced in this journey?
NDEAR has witnessed significant growth, but active participation from the education community is still a work in progress. As individuals and organisations understand and grasp their roles, they will actively contribute within the ecosystem in creative ways. Sharing success stories of collaboration will also help to manage risk perceptions some may have and drive positive change. 
What lies next in store for NDEAR?
The future of NDEAR is centred around the increasing value of the ecosystem. The focus will shift towards meeting the specific needs of students and teachers by fostering collaboration, innovation, and a demand-driven approach. Some states like Jammu and Kashmir and Uttarakhand have already taken steps in this direction by implementing programmes tailored to their local contexts. The vision is to create a vibrant ecosystem where all stakeholders work together, leveraging their unique strengths, to revolutionise education in the country.
We have written about EkStep Foundation and DIKSHA before in different contexts here, here and here. If you would like to know more about how small irreversible changes lead us towards a new equilibrium, read this blog by Sanjay Purohit, Chief Curator, Societal Thinking.