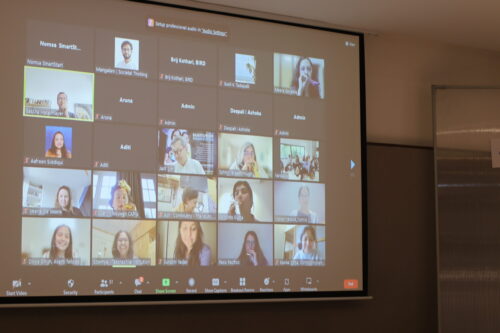 "Vetri Nichayam, Idhu Veda Sathiyam." 
"Success is certain, this is the truth of vedas," once said my favourite Tamil superstar, 'Thalaivar' Rajinikanth.
This was the mantra I kept repeating to myself as the much-awaited Ecosystem Meetup took place on 12 December, in Bangalore. Societal Platform's Orchestrate Team, the team I joined just a few weeks ago, was at the frontline of organising the Meetup. After two years of the pandemic, we aimed to bring together the many diverse organisations from our ecosystem to Connect, Learn and Share. 
As we have over 70 organisations from across the globe in the Societal Thinking ecosystem, a hybrid model was the only way to ensure people across 15 time zones could come together, in one place. But, with Zoom fatigue, time difference and year-end deadlines, I worried if it was too tall a task. Would people sign up? Would they be comfortable engaging with the ecosystem over video conferencing? More importantly, would we be able to pull it off? 
In nearly no time, we had about 170+ participants tell us they would join us on Zoom! As challenging as it was, it made us more attentive and rigorous. How could we do the best for people joining us in person and on Zoom? How could we make the hybrid model work seamlessly for all? 
I spent a lot of time researching and designing breakout sessions which would allow everyone to discuss their big questions. The more I sat in on conversations around what these big questions were, the more it became clear to me that all of us have a lot in common. We're driven by the idea of creating a world where everyone has agency, dignity and choice. We're all obsessed with large, complex and dynamic social problems. We're all trying to design solutions at scale. And, we're all sure we can't do it without each other! 
All this came together in logistics, which I was responsible for. Much of my work was behind-the-scenes. It became a crash course for me to learn about the many things that matter while designing hybrid: 
The right venue

which had the access to the necessary equipment for a Hybrid model meetup

Cluster seating arrangement

required to enable connections between in-person and Zoom participants

Floor layouts

to offer a welcoming feel for everyone participating

Goodie bag

with a personalised letter and thoughtfully chosen gifts for everyone in the room and online

Curating the efforts, milestones and successes of each of the participating organisations to be shared and celebrated with the ecosystem 
All hands on deck and specific roles for the team to support us 
Attention to detail to technology which requires even more coordination in a hybrid setting
At the tables and across all screens, the meetup kick-started with a lot of energy. Everyone was curious, and excitedly jumping into discussions. Connections were made and strengthened. 
While the room was abuzz with chatter and laughter, I was humming the famous John Lennon song, 'Imagine': 
"You may say I'm a dreamer, But I'm not the only one
I hope someday you'll join us, And the world will be as one
Imagine all the people, Sharing all the world."
I smiled at our Hybrid Model success!