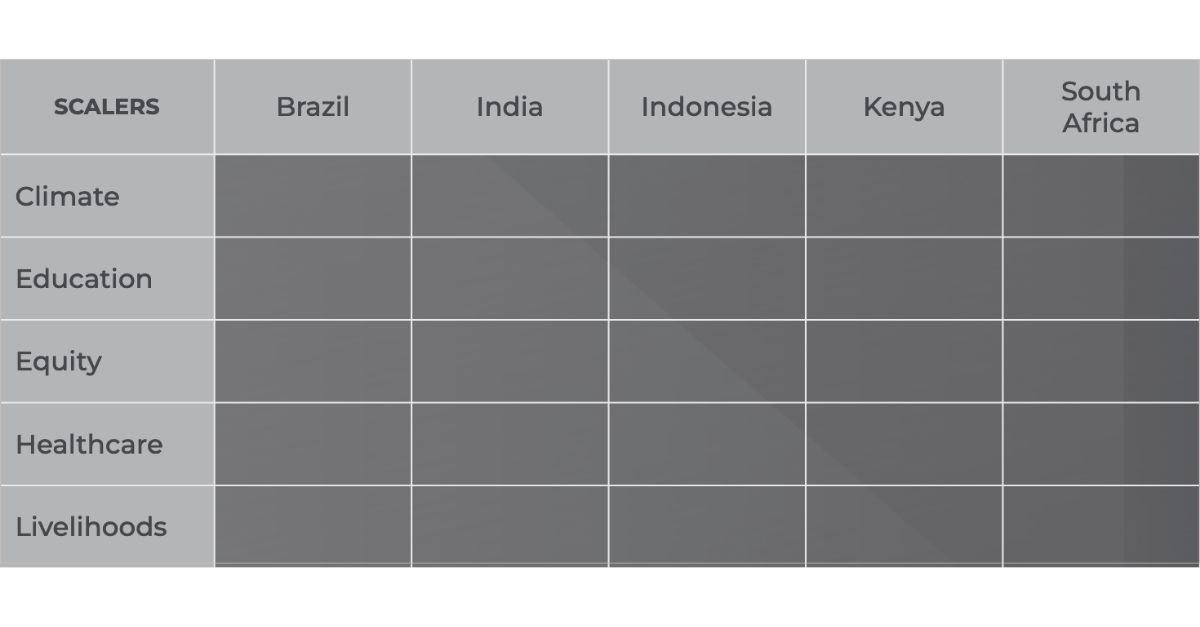 Six years ago, we started wondering: "Social problems grow exponentially, and some of them affect population scale, how do we solve them with speed, at scale and sustainably?" We started connecting the dots – several organisations were working on similar problems, and point solutions were doing wonders at a local level but were unable to scale. The complexity of issues made fissures creep up on one side as the other side was fixed. 
Learning from the experience of large-scale change with Aadhaar (India's Unique ID Program), UPI (Unified Payments Interface) and our emerging work at EkStep Foundation (an audacious endeavour to improve literacy and numeracy for 200 million children across India), we understood the potential of platforms. Thus, started the journey to help design multiple Societal Platforms that would create impact at scale. Through this do-think-do journey, we developed a systemic approach to reimagine problems and induce exponential change, which we call Societal Thinking. 
Exponential change ~ change that induces more and rapid changes.

In the last six years, we have worked with 70+ change leaders across different domains and diverse geographies, helping them find pathways to exponential change.  Over the next few years, we want to deeply focus our energies on five domains (Climate, Education, Equity, Health and Livelihoods) across five geographies (Brazil, Kenya, India, Indonesia and South Africa). To do so, we are starting a new program, Societal SCALERS.
With each scaler, our program is a deep one-year engagement, where we bring together our knowledge, our ecosystem and our thinking hats to travel with the change leaders on the journey of learning how other Societal Platforms work at scale, imagining what will create exponential change in the problem they are trying to solve and helping them design their action plan. 
This journey is bound to take them and us through some explored and some unexplored terrains like:
Reframing the Problem > Finding the "Right Problem to solve" 
The question "Are we solving the right problem?" can make us look at the problem from different angles—what does the problem look like at scale (with all its complexity, diversity and dynamics), what it looks like from the perspective of different people and what it looks like outside-in (with some hidden influencers). 
Reimagining the Network > Tapping in the exponential power of the network
Solving at societal scale would mean creating a welcoming environment where a variety of actors see value in coming together and creating contextual solutions. What role do diverse actors play? What role can the change leader play? How can network effects be created, such that each new actor increases the value of the network for the existing actors? How can agency in the communities be reactivated, so they can see, sense, and solve by themselves?
Recasting change leader's role > Doer to Orchestrator 
Most change leaders start their journey of social change as doers who make social change happen. For Impact@scale, the change leader (& their organisations) may have to go through a journey of transformation—from making change happen to enabling change to happen. We call this journey a transformation from Doer to Orchestrator. 
Refining technology/infrastructure/Data > Taming the exponential
Exponential change is at first slow, but then it rapidly explodes, as each change induces more and more change. What does the Scale model of such a platform look like? What infrastructure can support such a transformation? How can diverse co-creators participate, together? How can data empower these actors? 
Through this journey, we are trying to answer "What will work at scale" from these lenses:
For whom? 

With whom? 

Leveraging what? (infrastructure, knowledge)

Enabled by (things you have)

Powered by (what you believe in)
In SCALERS, we are looking for change leaders with a bold vision, strong imagination and the wherewithal to go on an audacious journey of orchestrating a large network to solve together ~ they have the intent, capability and commitment to enable Impact at Societal (Population) Scale. 
If you would like to know more about SCALERS, reach out to us at info@societalplatform.org