As a fresh face walks through the doors of ShikshaLokam, a unique journey of transformation begins. The new member is welcomed into a world where Societal Thinking is at the heart of every endeavour and where the values, Restoring Agency and Catalysing Interactions shape ShikshaLokam's culture and work in the world. One of the first AHA! moments we all have as part of ShikshaLokam is that the true power of Restoring Agency lies in applying it. 
Imagine being ushered into a world where education's transformation is rooted in empowering individuals and institutions. This is the essence of Restoring Agency. In our work, it translates to schools, educators, and students being able to choose their path towards improvement. 
For ShikshaLokam's team, meetings serve as vibrant platforms where agency is not merely discussed but ingrained into each member's role. Through these discussions, agency takes on a tangible form, making sure it's not just words on paper but a principle that guides every action. For example, 'Thoughtful Tuesdays' is a space where agency is put to practice. Here, team members lead sessions reflecting on their school days and how having/not having agency has shaped their experiences. These reflections bring alive the idea that agency is not just a distant notion but a practical force for change. More so, the organisation demonstrates how agency seeps into programmes, solutions and technology, with examples that resonate.
Recognising efforts to improve education (we have enabled several Micro-Improvement campaigns that conclude with recognition/award events)  or providing stakeholders with data to make informed decisions – these become practical illustrations of agency's power. Our partnership with the National Council of Educational Research and Training (NCERT) to conceptualise the Vidya Amrit Mahotsav, a national innovation festival, was one big example where we tried many things. Our newly onboarded programmes and ecosystem team got into action to experiment with many ideas, trying to answer one simple question: How can this programme not come off as a competition but a celebration of improvements by all in the ecosystem? This shift from competition to celebration captures the essence of how we think about agency. It is about bringing together, building trust and taking action, together. 
Yet, this journey isn't without its dilemmas. Imagine being faced with a choice: Should the focus be on making programme designers' lives easier or enabling leaders to make independent choices? What is our role? As Sanjay Purohit says, 'Who decides who decides?' Especially during these dilemmas, our values become guideposts, ensuring that our choices are in service of the larger ecosystem.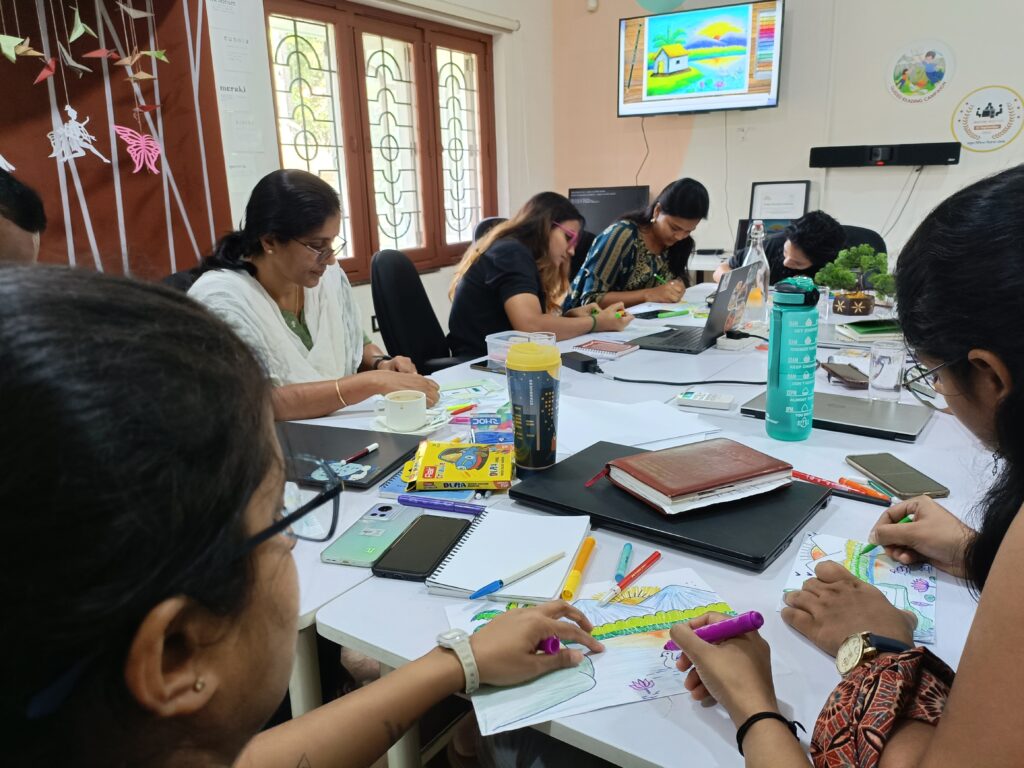 Tied closely to Restoring Agency is Catalysing Interactions. Newcomers soon discover that collaboration is the heartbeat of meaningful progress. It brings alive the simple idea that brainstorming, visioning and implementing towards a shared goal can galvanise actors across society. More so, we host many guests from the ecosystem to share, learn and co-create. Seeking wisdom from external voices enriches initiatives, and this value is evident in every interaction. Our dynamic 'Unbundle' workshops, where diverse perspectives converge to solve education challenges, offer a similar space to a broader range of actors, who may not find other avenues to come together. These workshops showcase how collaborative effort turns ideas into tangible programmes. We have designed several innovative micro-improvement projects that have seen light of the day in the form of prototypes and programmes. Every 'Unbundle' workshop has helped us better understand ground realities and challenges. It has also helped refine approaches to leadership development. Today, new team members are taking this idea of 'Unbundle' far and wide, across India. The last one was held in Odisha, with a group of 15 local partners.
A newcomer's journey at ShikshaLokam isn't just a personal story; it's a narrative of a continuous cycle of improvements, something that we aspire to enable for our leaders as well. Through the values of Restoring Agency and Catalysing Interactions, the newcomer transforms, not just in their approach to work, but in their perspective around education. The journey exemplifies how choices guided by these principles create a brighter educational landscape for all. 
Read more about ShikshaLokam's journey of building the capacity of education leaders.